The following paragraphs give instructions for applying a field dressing to a wound on the casualty's forehead.
The same general procedures are used to dress a wound on the back of the casualty's head.
a. Remove the field dressing from its wrappers, grasp a tail in each hand, hold the dressing toward the wound, pull the dressing open, and place the sterile, white dressing pad on the wound.
b. Place one hand on the dressing to keep it from slipping. If the casualty is able, you can have him assist by holding the dressing in place.
c. Wrap one tail horizontally around the casualty's head (figure 5-2) and bring it back across the dressing. Angle the bandage so that it will cover the top or bottom edge of the dressing.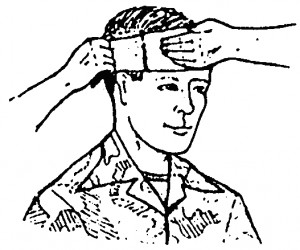 d. Wrap the second tail around the casualty's head in the opposite direction. Bring the tail back across the dressing angled so the tail will cover the other edge (top or bottom) of the dressing.
e. Continue to wrap the bandage around the head again until it meets the first tail.
f. Tie the tails in a non-slip knot on the side of the head (figure 5-3). The bandages should be tight enough so the dressing will not slip but not tight enough to place undue pressure on the wound.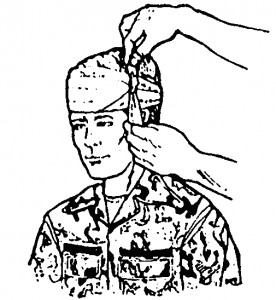 g. Tuck in any excess tails. Tucking in excess material will keep the tails from catching on an object or accidentally hitting the casualty in the eye.